Olympian Seye Ogunlewe Opens for Columbus League
What's that!?! It's true.  Nigerian 100 meter champion and Olympian Seye Ogunlewe (10.01s) fired up the track just before the start of Columbus League Meet #4.  Then, his coach stuck around to scout our young athletes.  Hope you saw something you liked, coach!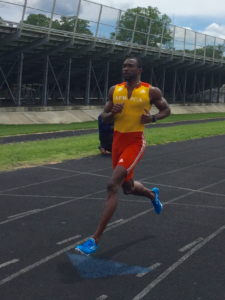 Get Involved!
Recognized by the IRS as a 501(c)3 non-profit organization, The Columbus League welcomes donations. To donate through, use the button at right.